A project to bridge Sicamous with the future Shuswap North Okanagan Rail Trail is beginning to take shape.
Since it was learned a single bridge option had been chosen by the B.C. Government for the replacement of the Bruhn Bridge along Highway 1, the District of Sicamous has been pursuing a separate crossing over the channel for pedestrians, cyclists and other active transportation users.
Ian Roth, a transportation engineer with Urban Systems and Mike Wong, COWI North America project manager, addressed Sicamous council and district staff at the July 26 committee of the whole meeting to begin the process of choosing a bridge design and share budget and process details for the Sicamous Narrows active transportation crossing project.
A feasibility study, nearing completion, determined a bridge could be built connecting Main Street and downtown Sicamous with the future rail trail that will run along the west side of the channel. The next phase of the project included choosing a bridge design, which factors in the district's budget, construction time frames and disruption to residents.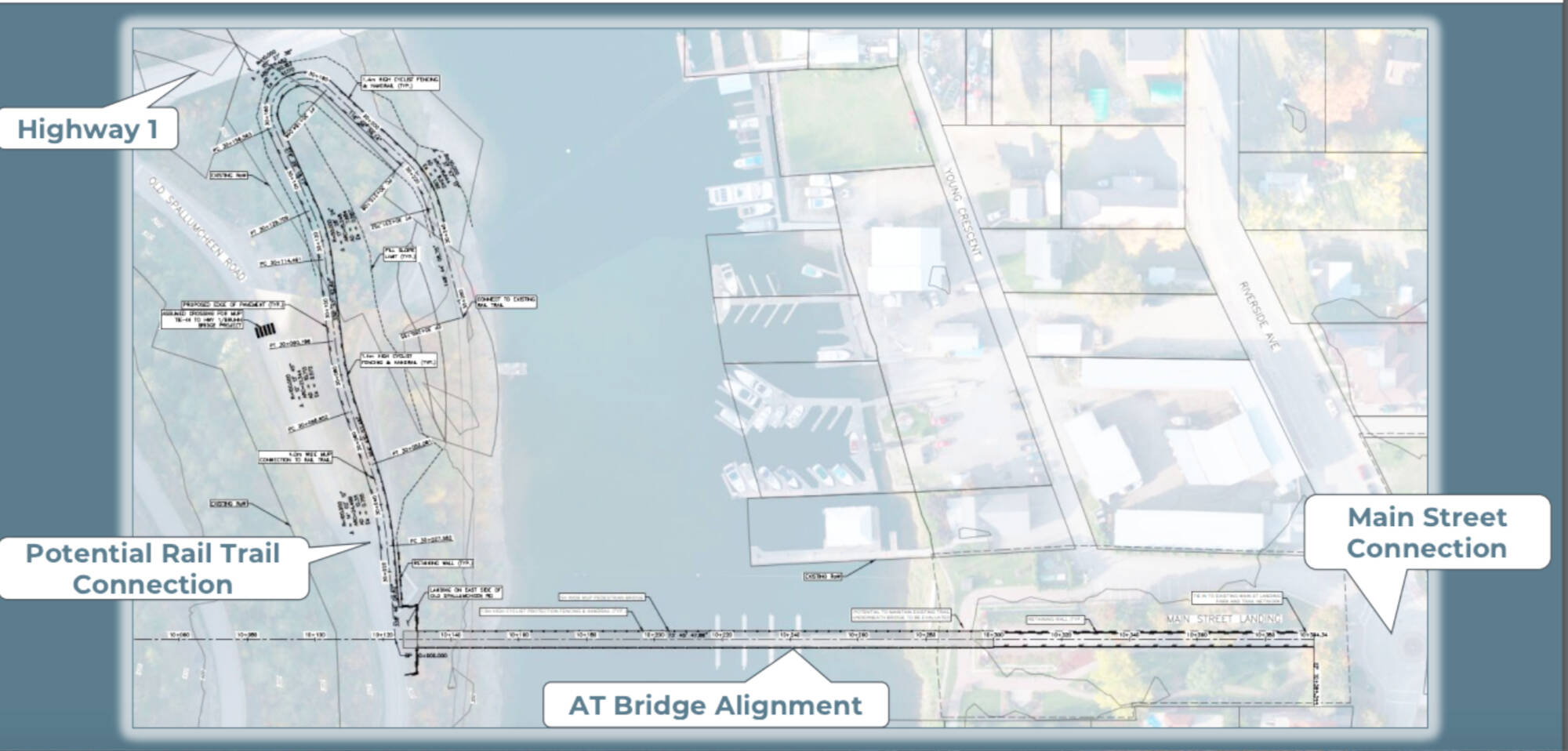 Roth explained how bridge design takes into account aesthetic and integration with local environment, and how they can become landmarks and points of attraction in communities. There are four main types of bridge construction, he said, a steel or concrete girder bridge, a tied arch bridge, a cable stayed bridge or a suspension bridge. Each has pros and cons specifically for Sicamous, including cost to build, disruption to channel traffic and water environments and support options.
A steel/concrete girder bridge was ruled out for this project.
The plan is to connect the bridge at the Main Street landing near the traffic circle and use the old highway bridge's previous alignment to attach to the west side at Old Spallumcheen Road, said Roth, showing a diagram, although he said the reconnection piece could be built in many ways. The district's boat launch and mooring station would have to be considered in the design, he added.
Five designs in total were proposed, each with differing support mechanisms and price points. A single tower cable stayed bridge would attach to the mountain bedrock, explained Wong, and would likely keep much of the construction out of downtown and more on the west side of the channel. The cables upholding the structure would come down from the side of the mountain and create a landmark unique structure, he said, but does require easements and could have potential impacts on neighbouring properties. A two-tower cable stayed bridge would have shorter towers than the single tower design, with ground work done on district property and shorter stay cables. This would have slightly easier construction and be more cost-efficient, Wong said.
A suspension bridge was also suggested, as was an arch bridge which was the most expensive with temporary towers needed to support it during construction or with pieces being pre-fabricated on a barge, shipped over and lifted into place on a crane.
Council's next move is to consider each option for foundations, hydraulics/ hydro technical clearance, environmental, water and archaeological impacts, water disruption, connectivity differences on either side of the channel and property impacts, "constructability," operations and maintenance and cost. Wong said most options are fairly comparable overall. A chart he shared showed the single tower cable-stayed bridge designs are preferred in terms of foundation construction, and the arch bridge impacts properties the least, but the arch bridge would be the most expensive and most difficult to construct.
After the district decides on a design, next steps will be to craft a preliminary design, then a functional and detailed design, followed by the tender process and construction. Each of these stages requires funding, as only the feasibility study, which Roth said should be complete in three to four weeks, is currently budgeted for.
Mayor Colleen Anderson confirmed the district is looking for active transportation funding at the upcoming Union of BC Municipalities convention before making any financial decisions.
"This is an iconic project for Sicamous, part of a bigger picture that connects us… all the way to the U.S. border, so this is a big project for sure," said Anderson.
Roth assured council they have time to deliberate and choose a few options from the five and then learn more, eventually narrowing down to a single decision.
Wong answered a question about winter travel and maintenance on the bridge, saying no design was better than another but all were designed for multi-season use. Roth confirmed some previous archaeological work and research can be used to determine the site's feasibility, but all new assessments and maintenance agreements would have to be done for any new project and permits would have to be granted, all of which take time and funding.
An initial cost estimate, factoring in deck area, typical dollars per metre squared, planning and engineering, came to between $14-22 million. Each design falls somewhere on that price scale.
---
@willson_becca
rebecca.willson@saobserver.net
Like us on Facebook and follow us on Twitter and subscribe to our daily newsletter.