Update: 4p.m.
A 27-year-old woman is dead after being struck by a semi at Harvey Avenue and Gordon Drive on the morning of Feb. 17.
Kelowna RCMP confirmed Friday afternoon that the woman was crossing the intersection northbound on foot with no walk signal, before being struck by the semi going westbound on Harvey in the right-hand lane.
She was transferred to hospital by ambulance, where she was pronounced dead.
The scene is now open.
Update 12:00 p.m.
Harvey Avenue and all surrounding areas are now reopened, according to DriveBC.
Update 10:10 a.m.
According to the RCMP, Harvey Avenue is closed southbound from Burtch Road to Ethel Street while Laurier Avenue to Leon Avenue is closed along Gordon. Northbound traffic on Harvey remains open.
Update 9:50 a.m.
The Kelowna RCMP are investigating the incident and are asking the public to avoid the area and seek alternate routes. They also confirmed to Capital News that a pedestrian was struck by a vehicle.
A tent has been put up on Harvey Avenue where the incident took place.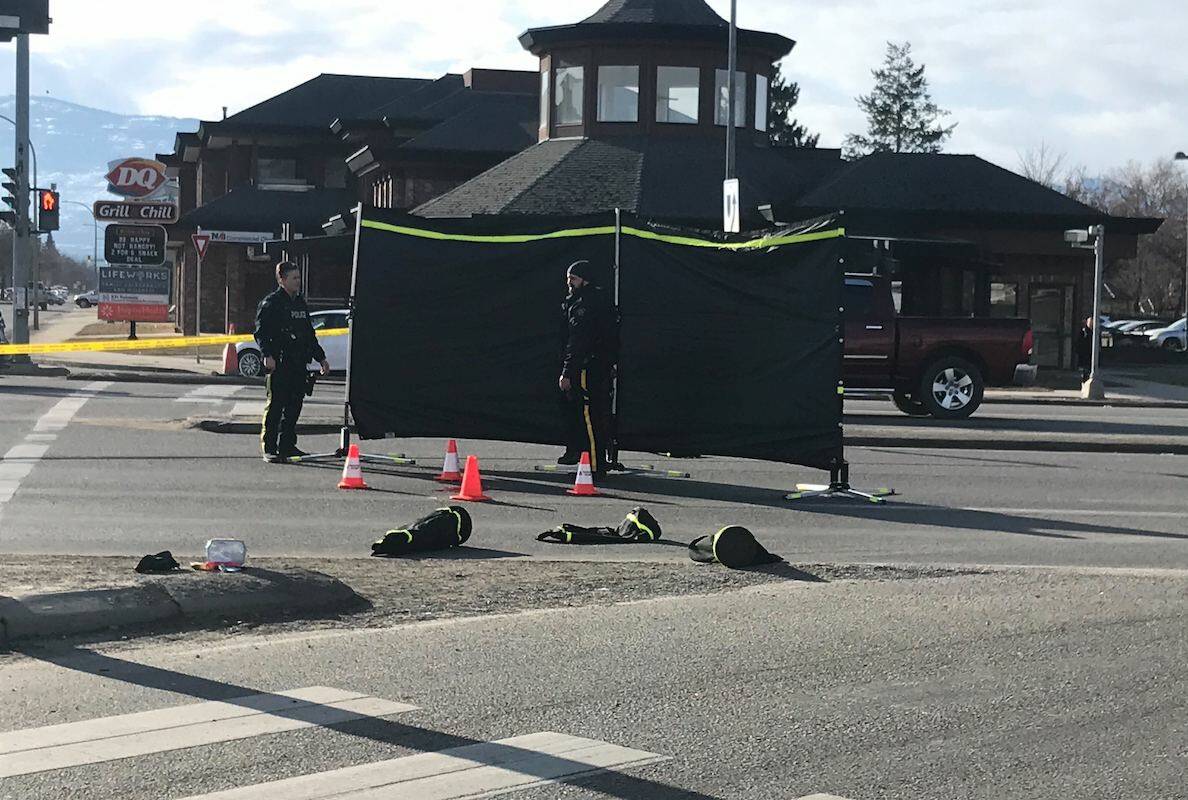 Original
The southbound lanes of Harvey Avenue are closed from Burtch Road to Gordon Drive following a vehicle incident that occurred just before 9 a.m. Friday morning (Feb. 17).
The incident happened at the intersection of Harvey and Gordon. The fire department, emergency services, and the police are all still on scene.
The RCMP have pylons around an object on the highway and have taped off the southbound lanes at the intersection. The turning lanes from Gordon Avenue onto Harvey's southbound lanes are also closed. Gordon Drive to Bernard Street northbound is also closed.
Southbound lanes on Harvey Ave. at Gordon Dr. In #Kelowna closed due to serious vehicle incident. Pylons and police tape blocking all lanes. Fire, ambulance , and police all on scene. @BlackPressMedia pic.twitter.com/JA7X54cxW0

— Jake Courtepatte (@JakeC_16) February 17, 2023
A witness told Capital News they saw someone being put into an ambulance at the scene but the extent of injuries is unknown.
More to come.
---
@cunninghamjordy
jordy.cunningham@kelownacapnews.com
Like us on Facebook and follow us on Twitter.