Bruce Ives, a resident of Daajing Giids, was confirmed to be the record holder as the world's oldest man to do a headstand after his granddaughter received an email from Guinness World Records on Jan. 9.
At 82 years and 43 days old, Ives performed his record-breaking headstand on Aug. 7, 2022.
He learned how to balance on his head more than 65 years ago from a high school physical education teacher in Leamington, Ont.
Decades later, Ives was in his 60's. He was playing with his grandchildren when he tried again.
"We just decided to try to do it and the person who could stay up the longest won," he said.
Since then, he has made it a tradition to do a headstand every year on his birthday, June 25.
His granddaughter, Isabelle Romas, had the idea to apply for the Guinness World Record during his most recent birthday when a guest at the party suggested he must hold the record already.
"We all thought, no, probably not. There's probably some older person out there who has it, who has been training in yoga for years," Romas said.
However, when they checked online, they learned the current record holder was a 75-year-old man from Quebec and Ives was seven years his senior.
Romas applied for her grandfather to attempt to break the record and started planning for the day.
One of the Guinness World Record's requirements is that certain people have to witness and verify the feat. Three RCMP officers attended Ives' record-breaking headstand, as well as the principal of the high school, a health professional and family members, including Ives' wife, daughter and granddaughter.
To break the record, he had to hold the position for at least 15 seconds. While he had done a headstand for much longer before, he said it was windy that day which made it more difficult.
Weather notwithstanding, he successfully completed the headstand and Romas sent the proof away to be confirmed.
"I'm really lucky to be able to do this, I think," Ives said. "Out of all my friends, I think I'm the only one who has that strength still in my body."
He said he is active daily and still tries to bring in most of his own firewood to heat his home.
Ives believes being short may also make the move easier.
"My centre of balance is a little lower than most of the big guys, so I think it might be a little easier for me," he said.
On Jan. 9, when Romas told her grandfather he was officially the new record holder he was very excited.
"Our entire family is just so proud of him. It's one of the coolest things to happen to us. I'm just so glad that he got to have this," Romas said.
She added that she has never been able to do a headstand herself.
Another B.C. man, Richard de la Mare from Sechelt, briefly held the record before Ives. He was 77 years old when he did a headstand on Aug. 26, 2022. While his headstand was conducted after Ives', it was confirmed first, which allowed him to claim the title for a short period of time.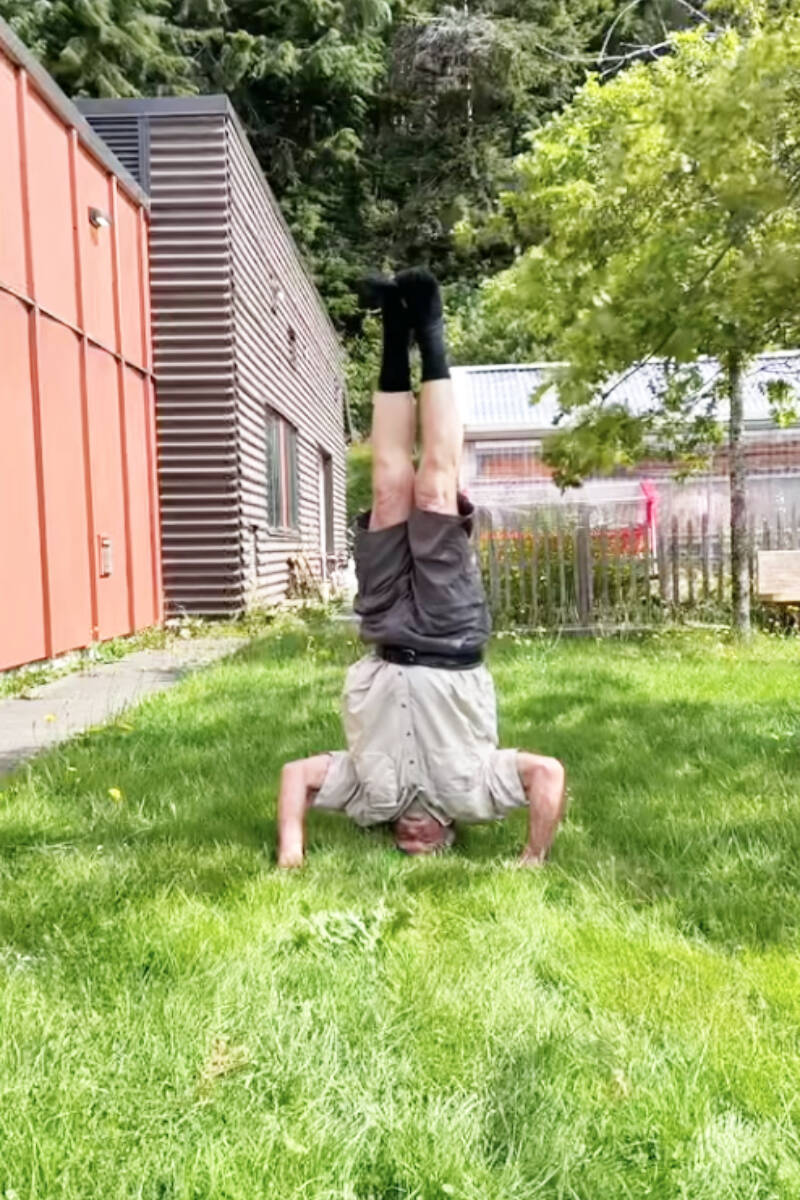 ---
Kaitlyn Bailey | Local Journalism Initiative Reporter
Send Kaitlyn email
Send The Observer email
Like the Haida Gwaii Observer on Facebook
Follow us on Twitter